Vinyasa is a style that blends a synchronization of the breath and movement through a series of connected poses.  I enjoy an expressive flow to get blood and prana moving.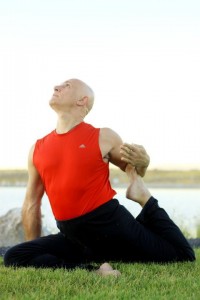 I, then, move into a standing series with poses held long enough to give opportunity for fuller expression. Deeper stretches follow along with inversions, arm balances and whatever time allows.
My practice has been described as physically challenging. I strive to offer modifications so that there is something for everyone. I bring focused awareness to the principle body parts involved in each pose, with detailed cues.
I'd be disappointed if someone stayed away because they heard the class is too hard. With appropriate modification, any practice can become your practice. Come and explore your edge.